Sherp Pro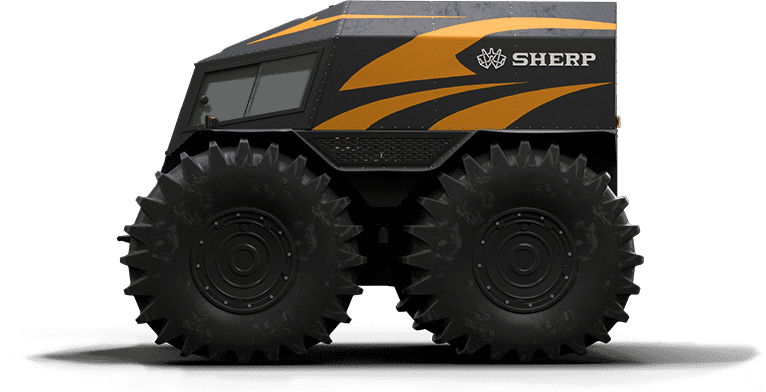 Offers you the ability to brag at parties that you own something that they don't.
Bring it with you on first dates to help break the ice.
Be the envy of your Doomsday Prepper buddies with the reliable 44 HP Kubota Turbo Diesel engine. Use the 4 additional fuel cells in the wheels to achieve a range of between 2,500 and 3,100 miles depending on use.
Sherp Pickup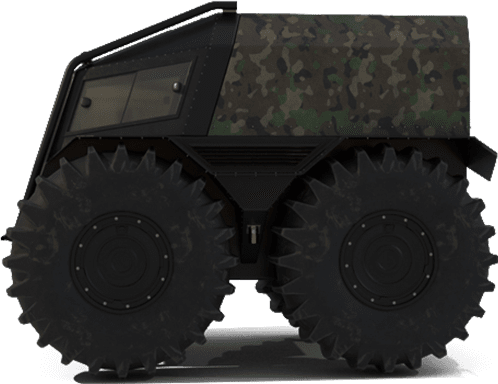 Same performance of the SHERP, with an enclosed cab and separate pickup bed for hauling.
Perfect for utility companies like oil & gas, watersheds, and power companies. Not as perfect for drive-in movie theaters...
While your buddies are rolling coal in their diesel trucks, you'll be rolling across lakes, logs, trees and swamps.
You're not a follower. You've been forging your own path since you were a kid. Never content with the status quo, you've spent your entire life challenging the establishment. You are driven and passionate in everything you do, and you've risen to the top of your peers as a result. The SHERP ATV wasn't made for followers. Let them go buy their Land Rovers or Polaris side by sides. Let them buy a new ski boat or the latest convertible. Those aren't turning any heads these days. Pull up next to them towing a SHERP and see who gets the most looks. The SHERP ATV has no rival, and your rivals will have no SHERP. Why? Because they are followers.
What Our
Customers Are Saying
"I don't care if you're in a Maserati, or a Hummer. I'm in a Sherp."

- Too Cool for School

"Now I know what vehicle to use when I want to feel like a superhero."

- John Doe
Welcome To

Sherp Northwest

If possibility had a price tag, we'd guess it would cost about the price of a SHERP. Because when you buy a SHERP All Terrain Vehicle from us, you aren't just buying the most capable off road vehicle in existence. You are buying an all access pass to the great outdoors. And as far as the Jones's go, even if they could keep up (which they can't), no one will be looking at them. You have to admit, this thing does look pretty cool.
Learn More